Vending
Corvus is able to offer a range of vending solutions, something which we have developed as part of our Facilities Management offering.
For most workplaces and businesses its not about revenue streams but about a happy workforce that is well provided for.  If you are able to offer snacks, drinks and great coffee productivity can only increase as time away from the workplace to go and get these things is reduced and the workforce feels well looked after.
We have a range of snacks and drinks and can tailor the machine if you require specialist stocks like protein bars, flapjacks, energy drinks or health foods just ask.
We have access to many different machines including Bean to Cup for free vend in offices and workplaces and combined vending machines for a wide range of products offered taking up small amounts of space.
The NECTA Snakky Max can be provided on your site from FREE OF CHARGE with our stock and no profit split (subject to site evaluation)
We presently provide the following and are able to stock and support these and many more vending options, with full maintenance packages:-
NECTA Snakky Max Vending Machine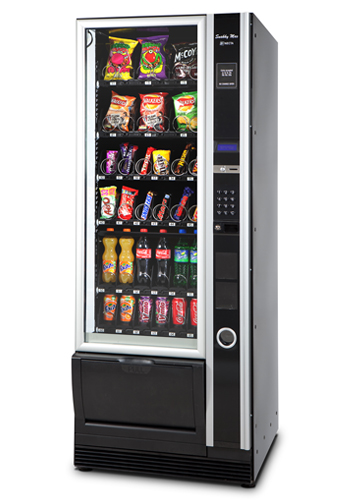 The Snakky Max Green is compact but spacious. It's able to house a good volume of snacks and drinks but narrow enough to fit in a location with restricted space. The machine can stock up to 30 selections and a total of 342 products, providing customers with a wide choice of snacks and beverages suited for small to medium establishments. It has a sturdy yet contemporary design, with LED lighting, a large glass door for optimum product visibility, and a small alphanumeric display.
Key Features
Vend detection for guaranteed product delivery
Virtual and combined selections for offers and multi-vend discounts
Compatible with coins, notes and cashless payment systems
Flexible layout options
New directional LED lighting
Energy-efficient processor
A energy rating
Coffee Queen Brilliance
The COFFEE QUEEN BRILLIANCE is a fully automatic espresso machine with an integrated grinder, that serves the perfect espresso using freshly ground beans. At the touch of a button you can choose from seven different beverage types, as well as hot water, all brewed directly into your cup!
With versatility like this it is no wonder this vending machine is popular with offices, sports clubs and gaming rooms.
 Key Features
Automatic water refilling
15 bar pump
2kg bean hopper
2 ingredient canisters
Upto 7 different beverage options
Hot water outlet
Adjustable coffee spout
Smart card function
Illuminated display
90 espresso per hour capacity
Specification
Electrical connection: 230V
Effect: 1250W
Water supply: cold water 3/8 "R –
Capacity: 100cups / hour
Our Coffee
We offer Coffee for our bean to cup machines from:-
Both companies are North Wales based and offer a fantastic range of coffees and associated products that work great with our machines.
We can supply powdered milk, powdered hot chocolate, tea bags (wide range) stirrers and all other associated vending supplies.